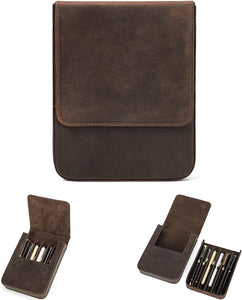 These Pen Cases are made of Genuine Top Grain Leather Tanned with Oil, the standard term is: Chamois Leather. 
The durability and appearance of the minimalist vintage design will be suitable for men and women, old and young. A great choice for your own use, or as a gift for friends and family! A vintage and elegant leather case with expensive pens that shows off your taste!
Removable Suede Fabric Tray
Removable tray design with 6 dividers made of suede fabric.
The texture is soft and protects the smooth surface of the pen.
 Top Grain Genuine Leather
Made of top-grain genuine leather tanned with oil, the standard term is Chamois Leather.
Unique leather pressing design, smooth surface, comfortable to the touch, streamlined one-piece design, beautiful and elegant appearance!
THIS ITEM IS NOT STOCKED AND IS A SPECIAL ORDER ITEM. Available in Brown or matte black
People who bought this product, also bought