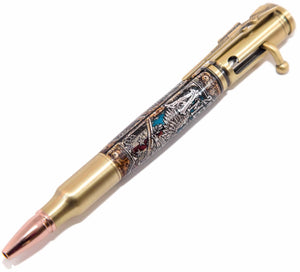 This completely original and irresistibly fun Bolt Action pen will be hard for any sports enthusiast to put down. Every detail, from the one of a kind bolt action mechanism to the precision engineered components, was carefully designed to ensure uniqueness and reliability. The realistic bolt-action handle smoothly advances and retracts to securely lock the refill in place. 
The pen in the photo is the one that you will receive. If you are interested in another quantity, please contact us. We will be happy to work with you. Since each pen is unique, we cannot create duplicates, but can use the same method to create the same colors and hardware. 
I guarantee 100% satisfaction. If for any reason you are not happy with your purchase, you can return the pen within 30 days of purchase for a full refund. 
A true collectors item.
People who bought this product, also bought