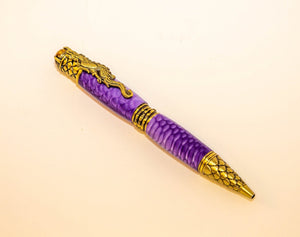 This dramatic and beautifully sculpted pen makes the perfect gift for any Dragon lover. Great attention is given to the exquisite details of the dragon. The clip is a full body, mighty crouching Chinese dragon. The band features a dragon claw grasping the center - a sign of strength and willpower. The pen tip and end cap are covered in the armored scales of the dragon; scales can be seen as a sign of protection. And the Tigers Eye crystal on the end, known to be very effective for instilling courage, strength of will and self-confidence - gripped in place by additional talons. Uses a popular Parker style refill.
The item you receive may be a slightly different but will be just as striking as the one pictured here.  

If you are interested in another quantity, please contact us. We will be happy to work with you. Since each pen is unique, we cannot create duplicates, but can use the same method to create the same colors and hardware. 
I guarantee 100% satisfaction. If for any reason you are not happy with your purchase, you can return the pen within 30 days of purchase for a full refund. 
 Refill is a Parker style refill.
People who bought this product, also bought